Can You Use A Steam Mop on Laminate Floors? How to Clean It Right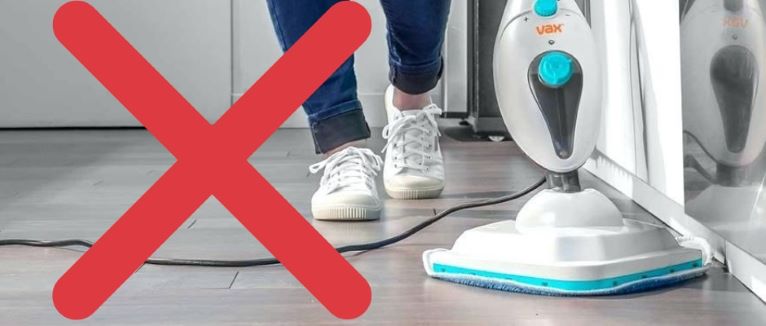 In order to clean and care for your floor properly, it is important to know the material it is made of. Laminate floors look beautiful and can give the impression of a hardwood floor. So, can you use a steam mop on a laminate floor?
No. Do NOT use a steam mop on laminate flooring. While a steam mop is one of the most effective ways to remove dirt, grime, spills, and all sorts of buildup, it releases steam (water) that will make the floor start to peel, swell and warp.
Reasons Not to Use a Steam Mop on Laminate Floors
1. Steam cleaning laminate damages the material
Laminate floors may look like wood, but they are not. Those planks that click together are made of different material that is hard-pressed together.
Steam and leftover water on the surface can seep through the joints of the laminate, exposing the floor to damage.
In fact, steam is very hot, and the pressure produced by the mop is enough force to tear off or weaken the joints that make the sheets to separate. One-time use may not cause enough damage visible to you, but with time, you will notice the flooring wearing off and warping. Bulging joints and areas are enough evidence your mop destroying your floor.
2. Steam Mop will Void Warranty
Some companies such as Armstrong Flooring clearly state that their warranty does not cover damage caused by water and improper cleaning methods.
For example:
Exposure to extremes of temperature or relative humidity. Water due to excessive moisture …hydrostatic pressure or flooding caused by malfunctions from appliances such as dishwashers, ice makers, refrigerators, sinks, pipes or from natural disasters.
Armstrong Flooring
This means that even improper cleaning methods, such as using a steam cleaner that will leave or inject a lot of moisture in your flooring will void the warranty.
3. Your floor will lose its shine
Regular use of a steam mop on the floor wears off the upper coating and the shine your floor comes with when brand new.
If you stick to using a steam mop on the laminate material, the shiny finish will gradually deteriorate. You will be left with a dull floor. This is usually true with finished laminate planks that present with a glossy sheen.
4. Soap leaves the floor slippery
We all know one of the best homemade steam cleaning solution is water and soap. When you put this on a laminate flooring, you risk leaving it slippery – a hazard that can cause serious accidents in the house.
How to Clean Laminate Floors Correctly
The basic rule to cleaning laminate floors, whether sealed or not, is to avoid leaving water behind as much as possible.
To determine this, you should check with your manufacturer. Whether Armstrong, Mannington Mills, Shaw, Pergo or Quick Step laminate flooring, follow these tips for the best and safe cleaning experience:
Avoid using steam cleaners and wet cleaning mops because they will damage the floor.
Always blot up wet spills as soon as they occur. I always use a damp cloth for this.
If your floor has tough spots such as paint, grease etc., use acetone with a piece of cloth to remove the dirt.
Sweep the floor often to remove any loose debris and grit.
If you are using a vacuum, use a hard floor attachment and avoid the beater bar.
Do not buff the floor.
Do not wash or wet mop the floor with soap, water, oil-soap detergent or any other liquid cleaning product. This could cause swelling, warping, delamination, and joint-line separation, and void the warranty.
Shaw Floors
I would advise that in order to better clean and care for your laminate flooring, follow the manufacturer's guidelines.
What can you use to clean laminate floors?
I have had the worst experience with any cleaner that promises a shiny finish. They usually contain oil, polish or some kind of wax that will always leave a problematic film on the surface. For the best results, you can use the following cleaners:
Bruce and Bona
A small amount of vinegar-water solution.
Bruce Hardwood and Laminate Floor Cleaner
Shaw – R2X Hard Surfaces Flooring Cleaner
Do not wash or wet mop the floor with soap, water, oil-soap detergent, or any other liquid cleaning material. This could cause swelling, warping, delamination, joint-line separation, or other damage that may not be covered by your warranty.
Floor 360
FAQ
(Q) Can you use Swiffer Wetjet on laminate floors?
(A) Although the manufacturer recommends it for all types of floors, I probably would not recommend using a Swiffer Wetjet on a laminate floor because it exposes your floor to water. Regular usage will eventually weaken the bonds in the pressed sheets and soon you will start to see warping and swellings on the floor.
(Q) Can you use Murphy Oil Soap on laminate floors?
(A) Yes, but only if it is well protected by a strong coating. If your floor is unfinished, avoid using soap and water on the surface because even a small drop will stain and leave a mark that will be difficult to remove. (1)
(Q) Why is a Shark Steam Mop recommended for laminate flooring?
The shark steam mop is one of the best products on the market today. However, the manufacturer recommends using it on laminate floors with care. Adjust the heat level as well as the amount of water appropriately to avoid damaging the floor. If you are not sure how to do it, do not use the Shark Steam Mop on your laminate surface. (2)
Here are cleaning tips for a laminate floor: